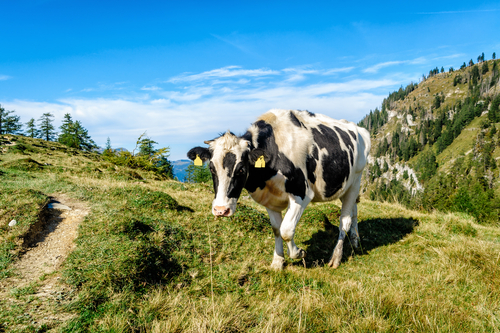 For years the Holstein cow was merely considered a milk producer. Not that surprising, as this breed is known for her incredibly high production of milk in comparison to her competitors.
It's origins lie in Friesland (Holland), the Holstein cow became thé dairycow by excellence all over Europe and Northern America.
The production of milk doesn't take place in the same way all over the world. We are searching for Holstein cows that during their active lives of producing milk, have already set the base for the tasteful meat they will procure later on.
The best quality can be found at the less intensive milk producing farms in Austria. There, quality predominates quantity. At this terroir the cows are fed their entire life with an abondance of very tasty grass.

Once the cow produces insufficient milk , she is no longer impregnated. At that moment the milk production comes to a halt. The Holstein cow doesn't have much muscle tissue and because of the rich
nourishment (grass, barley and corn) she gains weight quite quickly. The stress free environment on those vast Austrian pastures procure an added fat marbling, causing the meat to become even more tasteful and ideal for later ageing.
After slaughter our supplier picks out the best loins, crimson red and with a nice layer of fat.
In our ageing cells, those complete entrecôtes (with bone) are put to ageing carefully.
Temperature, atmospheric humidity and air quality are constantly checked. The meat has a natural fairly coarse fibre structure, but during the ageing period (at least seven weeks), natural enzymes ensure that the end product becomes even more tender, juicy and full of taste.
Convince yourself and experience what gourmets did at the request of the monthly "Gastromania". At a blind tasting test the majority amongst them chose Holstein to be the most delicious of steaks. A real sensational taste experience....
---