1: het bakklaar maken van de Picanha:
Laat de picanha op kamertemperatuur komen. (minstens 2 uur uit de koelkast)
Maak met klein scherp mes een ruitvormige structuur in de vetlaag van de picanha en wrijf het in met grof zeezout en zwarte peper.
2: Low & Slow: leg de Picanha met de vetrand naar boven op de BBQ, liefst niet warmer dan 110°c. Deze fase kun je evengoed in een voorverwarmde oven op 110°c doen. Je houdt de kerntemperatuur goed in de gaten. We stoppen wij 48°c.
Laat het stuk vlees even rusten in aluminiumfolie.
3:High & Fast: grill de picanha op de BBQ (200°c). Opgelet laat het stuk niet aanbranden, regelelmatig eens verleggen en omdraaien is de boodschap! Het smelten van het vet kan ook voor hoge vlammen zorgen, geen paniek. Heb je een kerntemperatuur van 54°c bereikt dan heb je een cuisson die we "medium rare" noemen. Hoger in kerntemperatuur gaan we naar "medium" (62°c) of "well done" (70°c). Hou er rekening mee dat een picanha niet overal even dik is. Dus zelfs bij een "medium rare" zal het puntje al iets meer doorbakken zijn.
Laat het vlees, afgedekt, een 15tal minuten rusten. Versnij het in dunne plakjes, te beginnen vanaf het puntje.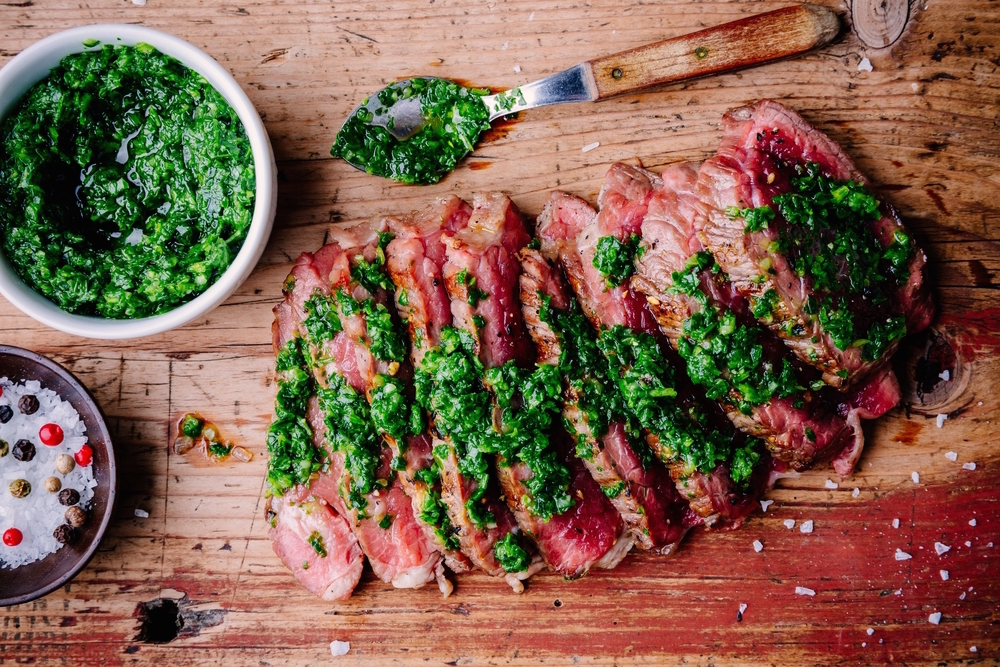 Hoe maak je Chimmichurrisaus?

Ingrediënten:
100 ml olijfolie
4 teentjes knoflook, geperst
een halve witte ui, gesnipperd
1 chillipeper fijngesneden zonder zaadjes, of als je van erg pittig houd met
3 eetlepels rode wijnazijn
2 eetlepels verse oregano
10 gram verse peterselie
zout en peper
Bereidingswijze:
Snij de knoflook, ui, chilipeper, oregano en peterselie zo fijn mogelijk. Mengen met de resterende ingrediênten.

Smakelijk!
Wednesday, November 1, 2017