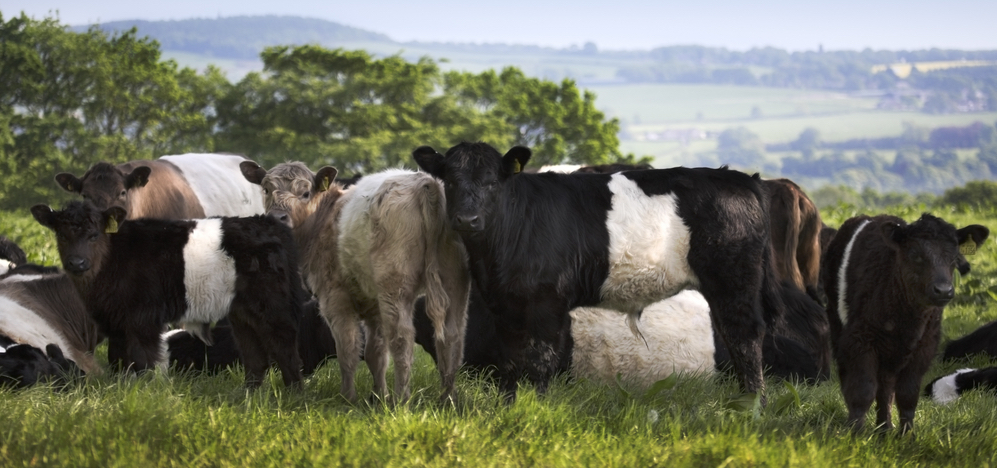 The Belted Galloway race pastures on the rough grazing lands of West- Schotland without any interference of man. The Belties are extremely adapted to their rough living conditions and are resistant to all kinds of diseases. Their culitivation takes place very extensively.
The cows are very protective in their mother's instinct and the young veals are quite vital immediately after birth. They can be easily recognized by the remarcable white spot around the belly.
The origin of this race lies in a cross- breeding of Galloway beef and Aberdeen Angus or Murray Green. Since 1862 pedigrees are kept.
On those arid Scottish lands they search for their feeding themselves. The menu is rich in fibres and mainly consists of course grass. Therefore the cattle gains weight very slowly, so that they are only fit for slaughter at three or four years of age.
All of this adds up to a production of meat of exceptional quality : very tasteful, tender, nicely marbled beef with very little waterresidus. Their diet results in meat containing a very high value of omega 3 and 6 fat acids.
Given the rough living conditions one could expect them to have quite a layer of fat. But this is not the case, for the Beltie has an extremely thick fur with tight hair underneath and long hair at the top. This ensures a firm winter isolation.
The meat is nicely marbled, but contains no excess fat.
A healthy and exceptional piece of meat, very natural with excellent culinary qualities.
---